Are you planning a vacation to the Great Smoky Mountain and wondering how much it will cost. We will walk you through all the steps you need to create your Great Smoky Mountains Trip Budget.
This post may contain affiliate links, meaning if you book or buy something through one of these links, I may earn a small commission at no extra cost to you! Read the full disclosure policy here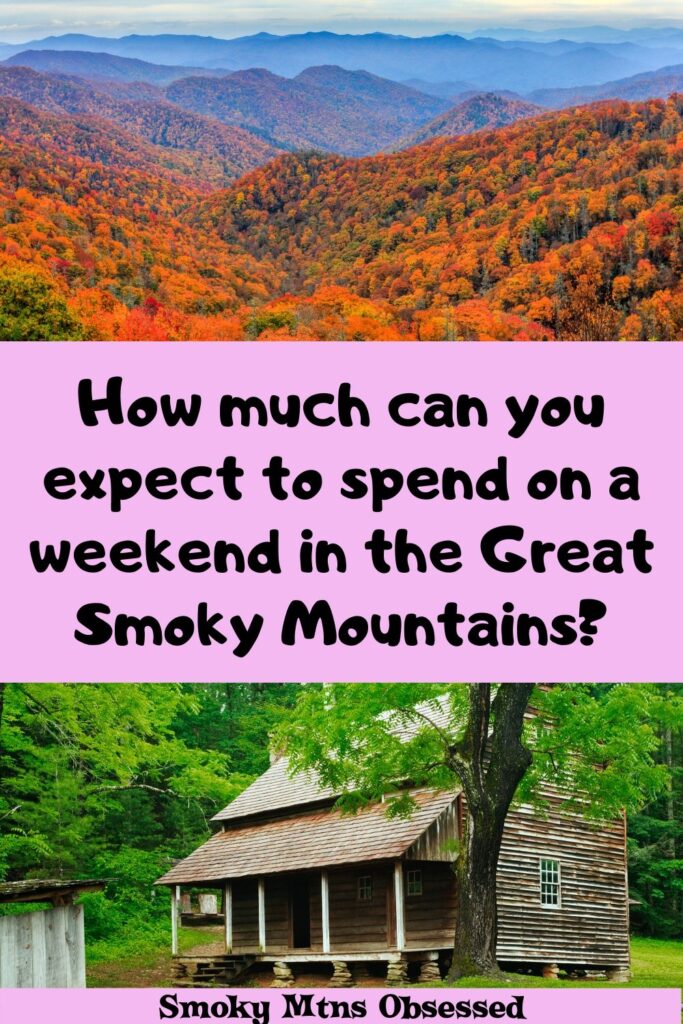 How much can you expect to spend on a Great Smoky Mountains Getaway?
You can expect to spend about $125 – $175 per person per day on a Great Smoky Mountains trip without factoring in transportation costs. This can go up or down depending on your lodging, how much you eat out, and your activities.
A Weekend Getaway for 2 will likely run a couple about $500.
A 7-Day Vacation for 4 will likely run about $2,500.
Make Your Great Smoky Mountains Budget
Transportation
Flights to the Smokies
This cost will vary wildly depending on where you are flying from and which Smokies airport you fly into. Below are some sample costs for the two closest airports to the Smokies.
Cost of flights to Knoxville McGee Tyson Airport
New York City, New York – $160
Dallas, Texas – $270
Denver, Colorado – $350
San Franciso, Califoriana – $280
Cost of flights to Asheville Regional Airport
New York City, New York – $250
Dallas, Texas – $270
Denver, Colorado – $200
San Franciso, Califoriana – $300
If you are flying to the Smokies, renting a car is the best option is you are planning to visit the park. There are no public transport options from the nearby airports to the gateway cities and there is limited public transport in the National Park.
Road Trip to the Smokies
A road trip is a great way to explore the United States. It can also be a cost-efficient way to go on vacation. Almost 30% of the US population lives within a one day drive of the United States.
To figure out how much a road trip to the Smokies will cost.
Use Google Maps to determine how far the Smokies are from your home.
Check the current average gas prices.
Find out the fuel economy of your vehicle.
Use the following formula to find the fuel costs of your trip.

If Google Maps shows that your drive time is more than 8 hours, consider breaking the trip up into 8 hour drive days. Driving more than 8 hours makes for really long days and that are not a lot of fun.
Plan for about $100 per night while you are driving two and from the Smokies.
Transportation in the Smokies
If you are not driving yourself to the Smokies, you will need a rental car. There are not a lot of public transportation options and transportation within the park is very limited.
A mid-sized rental car in Knoxville averages about $50 a day.
A mid-sized rental car in Asheville averages about $35 a day.
When exploring the Smokies, millage will vary depending on the amount of time you bounce around the park. For most visitors, 400 miles of driving while in the Smokies is a good starting estimate.
Estimate your fuel costs the following formula

Average fuel economy's by vehicle type:
Car – 24 miles per gallon
Light Truck / Van – 17 miles per gallon
Check the current average gas prices.
Find out the fuel economy of your vehicle. If you are renting a vehicle and aren't sure of the exact make and model, use 24 miles per gallon.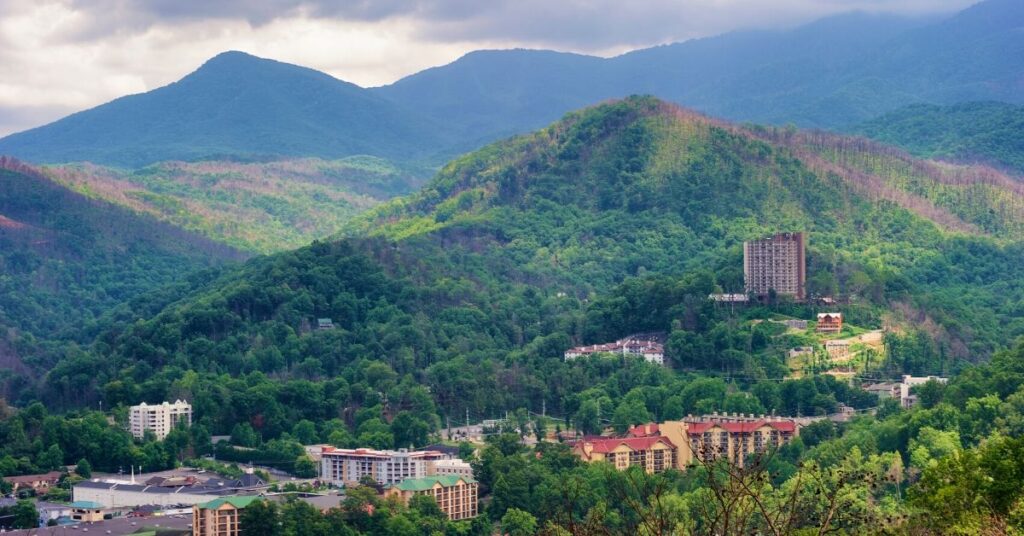 Lodging
Hotels, Cabins, and Resorts
Visitors to the Smokies typically stay in one of three cities. Two in Tennessee and two in North Carolina. There are a couple of hundred hotels and rental cabins spread out between Gatlinburg / Pigeon Forge, Townsend, Cherokee, and Bryson City.
Prices vary by season by room or cabin type. A good starting budget is $150 per night for a basic hotel room. This includes fees and taxes.
Camping
Camping is the cheapest lodging option in the Smokies. The Great Smoky Mountains National Park has about 1000 campsites and they range in cost between $14 to $23 a night.
Food
The restaurants in and around the Smokies are typical for tourist areas. You will find everything from pancake houses to barbecue to cafes to seafood. There is a huge range restaurants at all price points.
If you are looking to cut costs during your trip, each gateway town has a grocery store that you can grab breakfast and lunch supplies (and possibly stuff to cook dinner if renting a cabin with a kitchen).
If you are planning to eat out for most of your meals, expect to spend $50 per adult and $34 per child. These are rough numbers that can go up or down depending on where you eat.
The breakdown of this
Breakfast – $10 per adult / $7 per child
Lunch – $15 per adult / $10 per child
Dinner – $25 per adult / $17 per child
Attractions and Activities
There are a lot of things to do in the Smokies. Attractions and Activities is probably the third biggest expense after lodging and transportation. There are wide range of things to do from Great Smoky Mountains National Park to Dollywood to the Titanic Museum.
Thankfully, the biggest attraction in the Smokies is free. Great Smoky Mountains National Park does NOT charge an entrance fee. So other than gas when you are driving into the park, that day's activity is free.
For every day you are not planning to spend in the national park, estimate $60 per person for that day's activities.
Here are just a sample of attiviites and attractions near the Smokies and their cost.
** The prices are up to date as for May 9, 2020, but are subject to change.
Dolly Parton's Stampede – $57 per adult / $30 per child
Hatfield & McCoy Dinner Feud – $57 per adult / $30 per child
Pirates Voyage Dinner & Show – $57 per adult / $30 per child
Pink Jeep Tours Smoky Mountains – $55 per adult / $47 per child
Titanic Museum Attraction – $27 per adult / $14 per child
Dollywood – $79 per adult / $69 per child
Dollywood's Splash Country – $50 per adult / $40 per child
Smoky Mountain Outdoor Whitewater Rafting – $65 per person
Horseback riding – $35 per hour
Ripley's Aquarium of the Smokies – $33 per adult / $18 per child
Pin to share: Great Smoky Mountains Trip Budget